The Glitter Plan: How We started Juicy Couture for $200 and turned It into a Global Brand – By: Pamela Skaist-Levy and Gela Nash-Taylor with Booth Moore
Two best friends start a comfortable fitted t-shirt company in Los Angeles which later turns into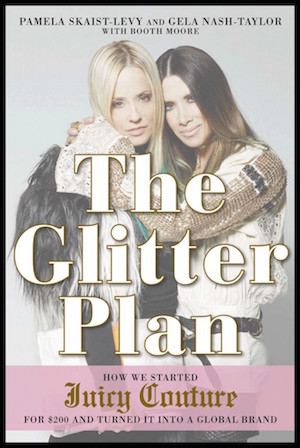 the global phenomena known as Juicy Couture. There was a time a few years ago when anywhere you went there was some girl or usually girls wearing the same velour color outfit from head to toe with the word Juicy splattered across their butt. You can thank the authors of The Glitter Plan for that. A few years ago this was an international fashion trend and everyone from Madonna to your mom to your teenage sister was wearing velour colored outfits wherever they went. This trend turned sweatpants into something more than just gym or lazy attire. It created an entire new category of clothing. Anyone who is able to do that in today's saturated clothing market deserves a lot of credit. And that's why I decided to purchase this book and learn more about how they made this possible.
Would I recommend the Glitter Plan?
Pam and Gela make it seem like Juicy Couture was a rags to riches story and that they didn't have access to any money to start the company. I think that's a little misleading considering they were able to borrow $75,000 from friends and family, Gela comes from a well-to-do family and Pam is married to a pretty well known director who connected her to celebrities.
However I give these ladies a lot of credit for being innovative with their marketing strategies and their killer instincts on what was missing in the marketplace and filling that gap. Their tenacity to target celebrities and send out tons of free samples was very bold at the time. I think the book would have been better if they stopped trying to be a rags to riches story and focused more on how they created the "comfortable chic" clothing genre and revolutionized fashion in the fitness industry which paved the way for many new companies. Overall I enjoyed the book and liked learning about how Juicy Couture came to fruition.
The Glitter Plan vs. #Girlboss
If you frequent Barnes and Noble as much as I do you may have noticed that there were not one but two pink business books in the business section. It was pretty exciting to see business books marketed specifically towards young women in the business section. This is a clear indicator that more women are becoming interested in entrepreneurship.
I would recommend that you read both of these books however if you only have time to read one I would without a doubt recommend #Girlboss over The Glitter Plan. (You can read my review of #GIRLBOSS by clicking here). It is more authentic and genuine and I think more women will be able to relate to Sophia than Pam and Gela. Pam and Gela seem like smart and nice women but it always seemed like they had an advantage over other people when they started their company. I think women will be able to relate to the author of #Girlboss more and enjoy her rags to riches story. Plus I also think Sophia had a much tougher road ahead of her and the story of how she became so successful at such a young age is very inspiring. Either way both books are interesting because Pam, Gela and Sophia don't seem like typical business women or entrepreneurs. And it is incredible to read about their journeys to becoming successful women and their impact on the fashion industry.
How to buy the Glitter Plan?
Click on the shop link below to buy the Glitter Plan directly from Amazon.

Click on the shop link below to buy #GIRLBOSS from Amazon