A few days ago Etsy, the online craft marketplace, made its debut on the Nasdaq. The stock has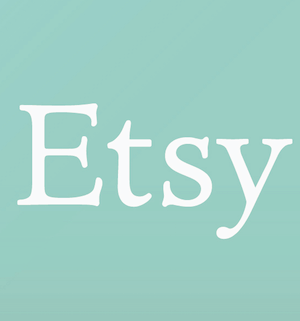 already doubled since its' initial IPO and has been trading for over $34 dollars a share which values the company at roughly $4 billion dollars. Etsy may have some trouble keeping its small craft community identity by going public though. Etsy is seen as an alternative to ecommence giants like eBay and Amazon. However even at the $4 billion mark Etsy is still considered niche if compared to eBay's valuation of $69 billion and Amazon's at $178 billion.
Some background on Etsy: Etsy connects sellers with buyers looking for handmade and handcrafted items. There are a wide variety of items including clothing, jewelry, food, beauty products, toys, craft supplies and so much more. Etsy is one of the new growing companies called B Corps that pledge to abide by social and environmental accountability guidelines.
Unlike other companies, Etsy's core goals are not to maximize profits
Etsy's mission is to do business differently. As one of the many growing certified B corporations, they view their social, environmental and business goals as inseparable. That means they put social and environmental goals at par with being profitable. In fact, even having US revenue at $195.6 million in 2014 it still generated a net loss of $15.2 million dollars. In its' public offering Etsy warned that in the near future as a public company it may not be profitable. This has caused some concern on Wall Street as generally the main mission for a company that goes public is to be profit driven. Even with Wall Street's concern Etsy has still managed to have a successful public offering most likely due to its year-over-year growth in revenue and community of 1.4 million active sellers and almost 20 million active buyers. This makes the Etsy IPO success an important milestone for tech businesses this year as tech IPOs have had a slow start in 2015.
How does Etsy make money?
Etsy is an ecommerce website platform that allows sellers to have personal storefronts where they list their goods for a small fee. Etsy generates revenue through three revenue streams.
Etsy charges sellers 3.5% for each completed sale item and a listing price of 20 cents per item.
"Seller Services" which includes fees generated from Etsy's Promoted Listings, payment processing and purchase of shipping labels.
Other revenue is generated from fees received from third party payment processors.
Mobile sales continue to rise on ecommerce platforms
It is also interesting to note that 36.1% of gross merchandise sales on Etsy came from purchases made on mobile devices which is another clear indicator of how much the mobile commerce market has been growing the last few years. This also shows how important it is for all companies that do business online to have a website that is optimized for mobile viewing.