Are you juggling multiple clients each day? Do you feel overwhelmed by all the emails you have to go through to find something important for a specific project? Do you want to store all your folders, files, pdfs, images, to-do lists, project status updates and more all in one place without having to spend any money for online storage?
This blog post is going to explain how I use Google Drive to easily organize projects and coordinate with clients online. And it's free for the first 15 GBs!
Before Google Drive I used email for communicating with clients, a notebook and post it notes for writing down to-do lists, desktop folders for storing files, PDFS, images and Dropbox to send and receive large files. Since I started using Google Drive for projects, I completely streamlined my project management process and work much more efficiently on projects. I just use one tool to manage all aspects of all of my projects. It is also so much easier to store all projects within Google Drive because if I ever need to go back to a completed project I can just go to my completed folders area rather than sifting through tons of emails.
Why I love using Google Drive for Project Management
Saves time: Rather than sifting through thousands of emails, I just go to the specific project folder and store all pertinent information in a Google Doc.
File formats: There are several different file formats you can create and upload. You can create a word document, spreadsheet, slides, forms and even drawings. Google Drive files also convert to several handy file formats such as MS Word Documents and PDFS
Access files anywhere: Every file in Google Drive becomes visible on all of your other devices (laptop, desktop, mobile phone, tablet) automatically. All you need is a Google Account and go to your Google Drive area.
Share with anyone easily: Files that are uploaded are automatically kept private. You can give users access to any file or an entire folder by just clicking the share button and entering in their email address.
Google Docs are editable: all the documents and spreadsheets you upload are completely editable with anyone you share it with! Each commenter can comment in a different color for added differentiation among users.
Informative and Quick Videos explaining Google Drive
This video explains what Google Drive is all about in under 2 minutes.

How to start using Google Drive
If you are already signed into your google.com account then go to google.com/drive
If you don't have a google.com account then I highly recommend that you sign up for a Google Account here. It only takes a few minutes. Once you have signed up then go to google.com/drive.
Once you are in the Drive you can create new folders for each project. Just click the big red New Button and click "Folder"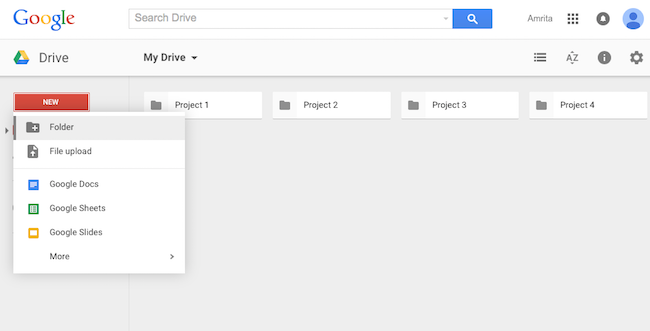 Once you have created folders then drag and drop folders files, images, pdfs or anything else into your folders from your desktop. You can also manually upload files by clicking the new button again and selecting File upload. But it's so much easier to just drag the files or folders from your desktop directly into Google Drive.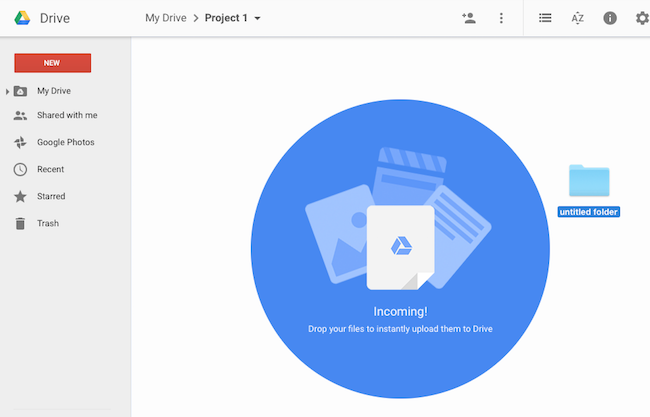 Creating living documents: You can also create new "living" documents and spreadsheets right in Google Drive. A living document is a dynamic online word document that is editable by multiple people. These can be shared, commented on and edited by you and your client. Just click on the red New button and open a new Google Doc. Be sure to rename it so you know what is in it. I like to create these for To-Do lists or status update forms so my clients can login to their google drive and check the document to see what I'm working on or any information I may need from them. Instead of emailing me they can just write everything into the document so we are always on the same page.
One of the many things I love about Google Docs is that they are completely editable so you and your client can make comments next to certain items rather than going back and forth via email.  This increase productivity and reduces annoyingness.
Sharing your folders and files: Once you have uploaded everything to your folder you can share it with others (You can also share completely empty folders and allow anyone else to upload files and images.) Just click the little Share icon to share the folder with other users. There is also an area to write in a note to let the user know what is in the folder/file.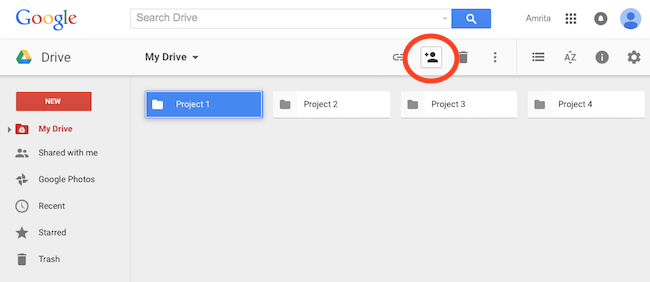 View and manage all your client files in one place online!
Google drive is great because it helps me view and manage all of my project and client files in one place. It allows me to add live documents to show clients what I'm working on and any questions I would like them to fill out.
You could easily incorporate Google Drive into your business – whether you do most of your work off or online!  If you are a website designer or graphic artist I find that Google Drive is especially useful. Your Drive can be a place for your client to upload their content and images as well as any other useful information for you.
You can upload contracts, mockups and revision requests for your clients. So rather than having your client email you several times to make changes to a logo or website, they can write down all their notes in a Google Doc and you can address their comments in that same document.
This is also a great way to keep your customers up-to-date on what is going on with their project rather than having them email or call you every day to request a status update – they can just check back into one of your designated Google Docs to see what you are working on.
Once you are completely done with a client store it away in a COMPLETED folder so that it is not in the way of your current client folders. And if you ever need to reference a certain file from a previous project you can go to that projects' specific folder rather than searching through thousands of emails.
Google Drive for Personal Use
You don't have to only use Google Drive for business. It is great for personal use as well! If you need to list or track anything just create a Google Doc and start typing. Let's say you want to create a grocery list. You could create a Google Doc with a list of groceries on your laptop and then see that same list on your phone when you are in the supermarket. You could do the same thing with to-do lists, rosters, weekly/monthly budgets (if you have one), books you want to read, places you want to go, etc.
Right now, I am in the middle of purchasing a new apartment and am brainstorming what type of furniture I would like to purchase for it. In addition to using Pinterest I created a Google Drive Folder and uploaded images of furniture and room spaces that I like. I also created a Google Doc so that I can write in any ideas I have or stores I want to look at to purchase furniture. I like Google Drive better than Pinterest for this because it gives me the added bonus of keeping a live document of things I want and need to do before I move in.
Overall, I have found that Google Drive has made my personal and business life easier. Give it a try and let me know what you think!